Emergency Plumbers Bexley
Looking for emergency plumbers in Bexley? All Needs plumbing are the leading name in the business when it comes to 24/7 plumbing all year round.
Our emergency plumbers in Bexley work around the clock, available at any time to assist you with plumbing issues, no matter the complexity or size of the job. No matter whether it's a blocked toilet at 3am or a complex pipe relining job, our emergency plumbers in Bexley are here.
With 10 years of experience in the business, we have developed a reputation in the community as reliable, professional emergency plumbers Bexley locals can count on anytime, anywhere. We consistently deliver long-lasting, quality solutions to our clients, at affordable, transparent prices. To get in contact with our emergency plumbers, Bexley locals can call us on 1300 110 230 today.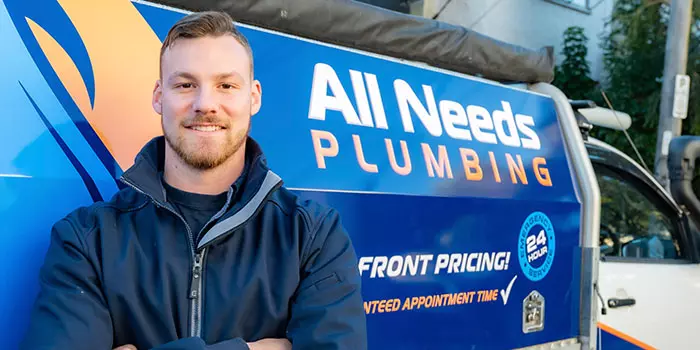 Emergency Plumbing Services in Bexley
Here at all Needs Plumbing, we offer a range of 24/7 plumbing services, including:
Hot water system maintenance, repair, and installation
We value our clients time and space, taking time to fully understand the plumbing problem you are experiencing so we can tackle it as efficiently as possible.
Bexley's 24/7 Emergency Plumbers
If you're looking for the most honest, friendly, professional, and affordable emergency plumbers in Bexley, look no further than All Needs Plumbing. We continue to service our community, including residential homes, commercial spaces, and industrial areas, consistently delivering quick and professional results. At All Needs Plumbing, we are constantly earning the trust and confidence from new and existing customers, giving our all to every job.
For the go-to name in 24/7 plumbing, call All Needs Plumbing. To get in touch with emergency plumbers, Bexley residents can contact us on 1300 110 230 or enquire online today!
Why Choose All Needs Plumbing?
Up Front
Pricing

We'll provide you with an upfront quote, so there will never be any nasty surprises or hidden costs at the end. Call us now for prompt service.

Our
Workmanship

Growing up in St George district, we understand the expectations of our clients. With 10 years experience, All Needs Plumbing can guarantee quality workmanship. We offer a life time labour warranty so you never have to worry!

We Keep Your
Home Clean & Tidy

We understand having a tradesperson in your home may be an inconvenience. It is only fair that you expect us to leave your place clean and tidy. That is why we always clean up after ourselves, so you can get to on with your life stress free.

24/7 Emergency
Services

We are here to support you at all times! With our 24/7 plumbing emergency service, you can count on All Needs Plumbing to get you out of trouble at any time!
What Our Clients Say
Why People Believe In Us?
5.0

All Needs Plumbing
If you want to spend the time Shopping around, that's cool, but take my word, this guy Daniel and offsider George are true legends and masters of their craft. Called Daniel after another company did a no-show at 10am, George was here by 10:15am to install our freestanding oven and finished the job to a high standard. I also noticed how clean he left the area. TOP Job boys! Sincerely , Hassan.

Abo 3elwa

Positive: Professionalism

The guys at All Needs Plumbing are the best plumbers I have ever used. Fast, friendly, professional and great value, I would HIGHLY Recommend them to anyone in need of high quality and affordable plumbing services. Absolute legends!!!

Adam Solomon

Did a bathroom Reno and needed the toilet installed on late notice. Nic came out and sorted it out super quickly 👌

Ashur Chamoun

Arrived same day within the hour of calling them, fast and efficient, great service. Would recommend

Bronte English

Positive: Professionalism, Punctuality, Quality, Responsiveness, Value

We would highly recommend Daniel! He is very knowledgeable, responsive and efficient! Got the job done as promised, also cleaned up any mess caused by the drain. Very friendly to deal with as well. Not to mention the price is extremely competitive. We really appreciate your help, took away our headaches!

Deborah Wong

I've had an emergency and they were very fast to respond and fix the problem while saving me some time getting the tree stump out... that's where the plumbing emergency was. Highly recommended their services.

Goatboy 68

Lovely service. Arrived on time and fixed our burst water pipe quickly and efficiently. Our water was back on in no time. Will use again in the future.

Jenny C

Called all needs plumbing. They came out within the hour. Nick was really through band conducted a floor and due test on my shower and diagnosed the issues professionally and promptly. Very happy with the service!

Joanna Beech

Great service - covered all problems that arose - kept me informed all the way. Promised to complete work on the day and did. Thank you Nicholas and George for a job well done.

June Peters

Positive: Professionalism, Punctuality, Quality, Responsiveness

Thank you Daniel for fixing our leaking showerhead and replacing our taps! Would not hesitate to recommend your services to our friends and family. Outstanding customer service. Rang today and Daniel was responsive in giving a quote and completing the job efficiently

Kat Lo
Emergency Plumbers Services in Sydney
Emergency Plumbers Bexley
Other Plumbing Services Sydne
Opening Hours
Open 24 Hours Open 24 Hours Open 24 Hours Open 24 Hours Open 24 Hours Open 24 Hours Open 24 Hours

Available 24/7
For Emergency
1300 110 230
Brands & Suppliers We Use