We are All Needs Plumbing, your trust source for reliable plumbing solutions in Rockdale.
Located just up the street in Kogarah, our dedicated team of expert plumbers work 24/7 to service any and all elements of your plumbing infrastructure. Whether you need an emergency plumber to come resolve a burst pipe, gas line repair, gutter cleaning, blocked drain troubleshooting, or anything in between; we have the people, products, and passion to bring total peace of mind to your home or business.
At All Needs Plumbing, we know the importance of having an efficient, worry-free plumbing system. It's crucial for your safety, comfort, and daily household or business efficiency. We strive to deliver effective plumbing solutions that you can feel good about, all backed by a 100% satisfaction guarantee and lifetime warranty to all Rockdale customers. That's the All Needs Plumbing promise. 
For worry-free, 24/7 plumbing solutions, turn to local plumbers that have been trusted by Rockdale businesses and homeowners for over a decade. Click below to start the conversation.
Get a Free Quote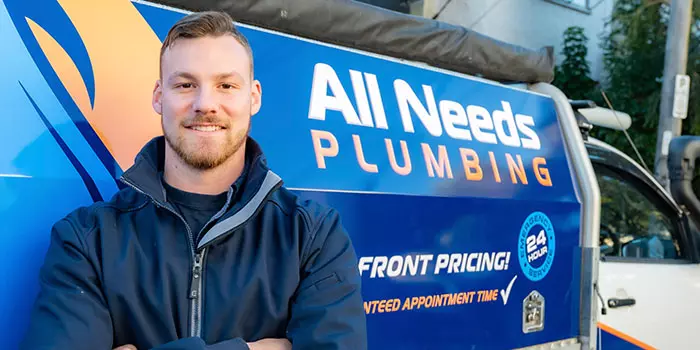 Plumbing Services in Rockdale
Backflow Prevention and Testing
Rockdale's Trusted Local Plumbers
You don't just need a plumber, you need a partner that you can trust. You need someone who can deliver reliable solutions that you feel good about, and who's just a call away when anything goes wrong.
That's why we offer straightforward pricing, excellence in workmanship, and a 100% satisfaction guarantee – all backed by our lifetime warranty. That's why we work around your schedule and treat you, your family, and your belongings with the utmost respect.
Whether you need a plumber to your residence immediately to fix a gas leak, hot water for your commercial property, or anything else related to your plumbing system, total confidence is just a call away.
Click below to speak with the local plumbers Rockdale has trusted for ten years and counting. 
Get a Free Quote
Why Choose All Needs Plumbing?
Up Front
Pricing

We'll provide you with an upfront quote, so there will never be any nasty surprises or hidden costs at the end. Call us now for prompt service.

Our
Workmanship

Growing up in St George district, we understand the expectations of our clients. With 10 years experience, All Needs Plumbing can guarantee quality workmanship. We offer a life time labour warranty so you never have to worry!

We Keep Your
Home Clean & Tidy

We understand having a tradesperson in your home may be an inconvenience. It is only fair that you expect us to leave your place clean and tidy. That is why we always clean up after ourselves, so you can get to on with your life stress free.

24/7 Emergency
Services

We are here to support you at all times! With our 24/7 plumbing emergency service, you can count on All Needs Plumbing to get you out of trouble at any time!
Opening Hours
Open 24 Hours Open 24 Hours Open 24 Hours Open 24 Hours Open 24 Hours Open 24 Hours Open 24 Hours

Available 24/7
For Emergency
1300 110 230
Instagram
Brands & Suppliers We Use